Handle your fleet efficiently!
The SeaShark application has two main modules, where one is designed for simple HQSE (ISM) Document Management (DocuShark) and second is designed for efficient risk assessment management (RiskShark).
The SeaShark application allow you to publish and share all HQSE (ISM) documents within your fleet of ships and head office using remote storage (Cloud) for data backing-up and distribution. User's profiles allows very handy document versioning and editing access from any connected station. The RiskShark module is offering more than 100 risk assessments as source for your risk assessment management and continuous reviewing. More than 500 hazards, related to marine industry, is already identified and ready to use. All newly identified hazards are shared over your fleet. In order to keep all users well informed about changes and news, the InfoShark channel is available, where all news are displayed as incoming messages for each existing user.  
We offer a cost effective solution
One of our main goals is to bring a cost effective solution for small or medium size companies / ship owner's which cannot afford expensive multi-task software solutions existing on the market, where additional training costs are always expected.

Quick-view of fleet-wide risk assessment progress
Handle risk assessments efficiently for any operations
Quick fleet-wide distribution and version control of documents
Complete workflow of document management at your disposal
Powerful search facility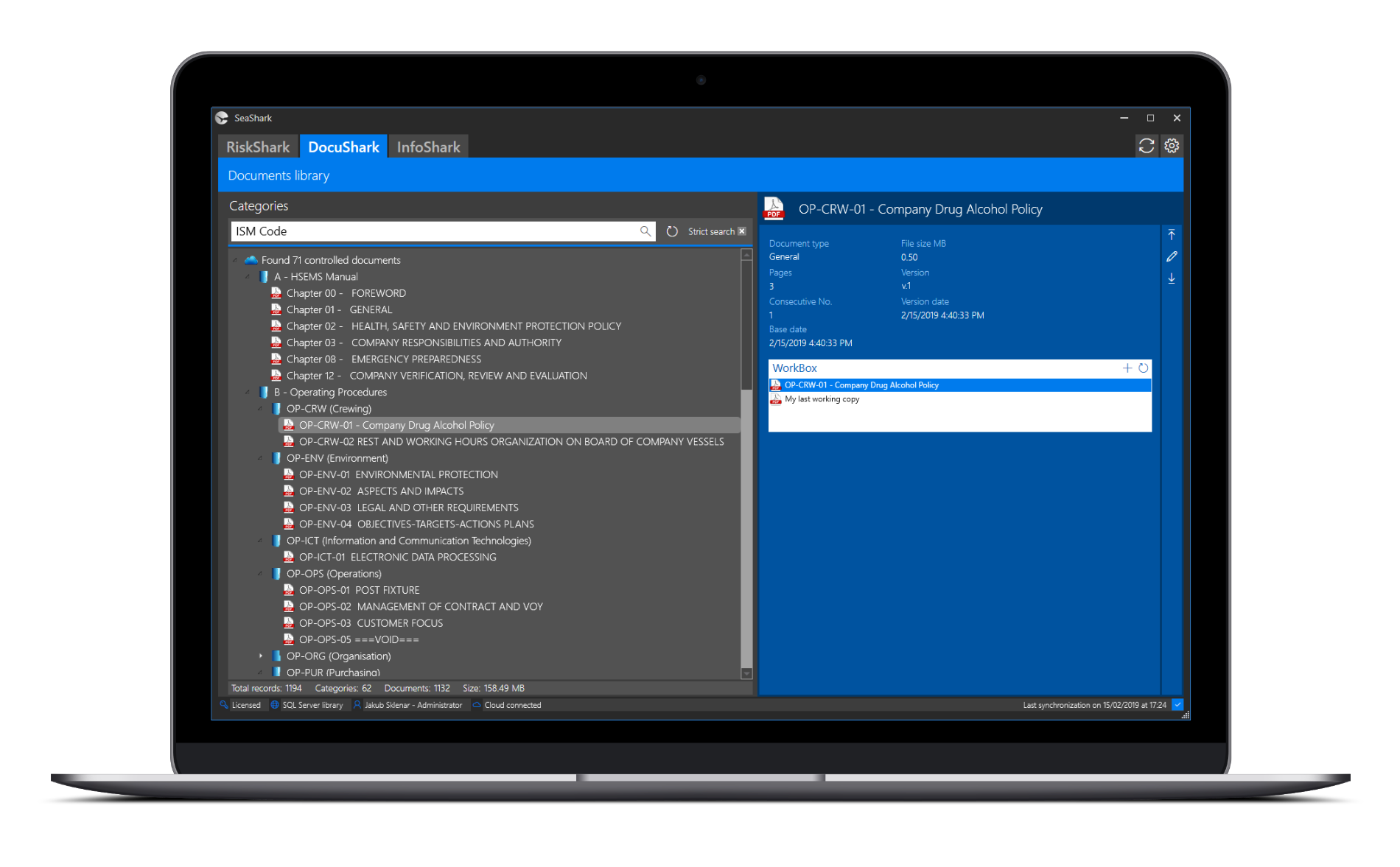 RiskShark Risk Assessment Library containing of 100+ operations ready to use.
Quick-view of fleet-wide risk assessment progress
Show the all actual risk assessment carried out and share all risk assessments and hazards identified all around your fleet. Continuous reviewing system implemented. Review can then determine if the current controls for operations can be further improved to reduce risks related to the operational safety and security on vessels.
Handle risk assessments efficiently for any operations
Create a risk assessment for any operation, identify an unlimited amount of hazards. With powerful search features and risk designing tools, you'll always have a highly effective tool to assess the risk. All identified hazards and whole risk assessments are shared between the fleet ships and your office.
The system comes with a well-designed risk template that helps you build your own risk repository by defining the key operations for a vessel and the hazards related to each task.
RiskShark (Risk Assessment Management) is designed to help users define, assess and manage operational risks to improve vessels' safety, security, performance and reputation while achieving the safety management objectives of the ISM Code and TMSA.
With support for risk assessment processes for different types of ships and nature of operations, manage the process of identifying the key operations for vessels and their potential hazards – in association with the execution of tasks during the operations.
Quick fleet-wide distribution and version control of documents
A hassle-free and straightforward document flow process from the office site, facilitating the distribution of documents to a single or group of vessels via our replication engine. All documents are stored in remote directory, where any newly connected client has access to all last versions available in the Cloud. The distribution of documents via remote storage media is also supported in instances of huge volumes of documents where, once received onboard, the module's upload mechanism makes it easy to merge all the documents into the system.
Improve safety and quality on board vessels as all the ships are updated with the latest version of company documents. Good visibility into document versions on board a vessel helps in adhering to ISM requirements.
Complete workflow of document management at your disposal
Review and publish the documents to everyone when ready. Easily handle document revisions, ensuring that documents are periodically reviewed and kept up to date. Your toolbox for each library document is available and could be used for revision and actual editing data holding and storing.
Find the right file with our powerful search facility
We give you the ability to search for any file, document or form that is stored within the archive using file name and content attributes which will allow you yo search thru different document types at once
DocuShark (ISM Document Manager) is designed to ease the administration and management of ISM documents such as, governing documents, regulatory-required documents, guidelines, system manuals and corporate documents among others, between the office and vessels.
Its flexible structure supports various document files types (MS Office, PDF, TXT) for straightforward archiving of all sensitive and non-sensitive documents to support office, fleet and vessel operations.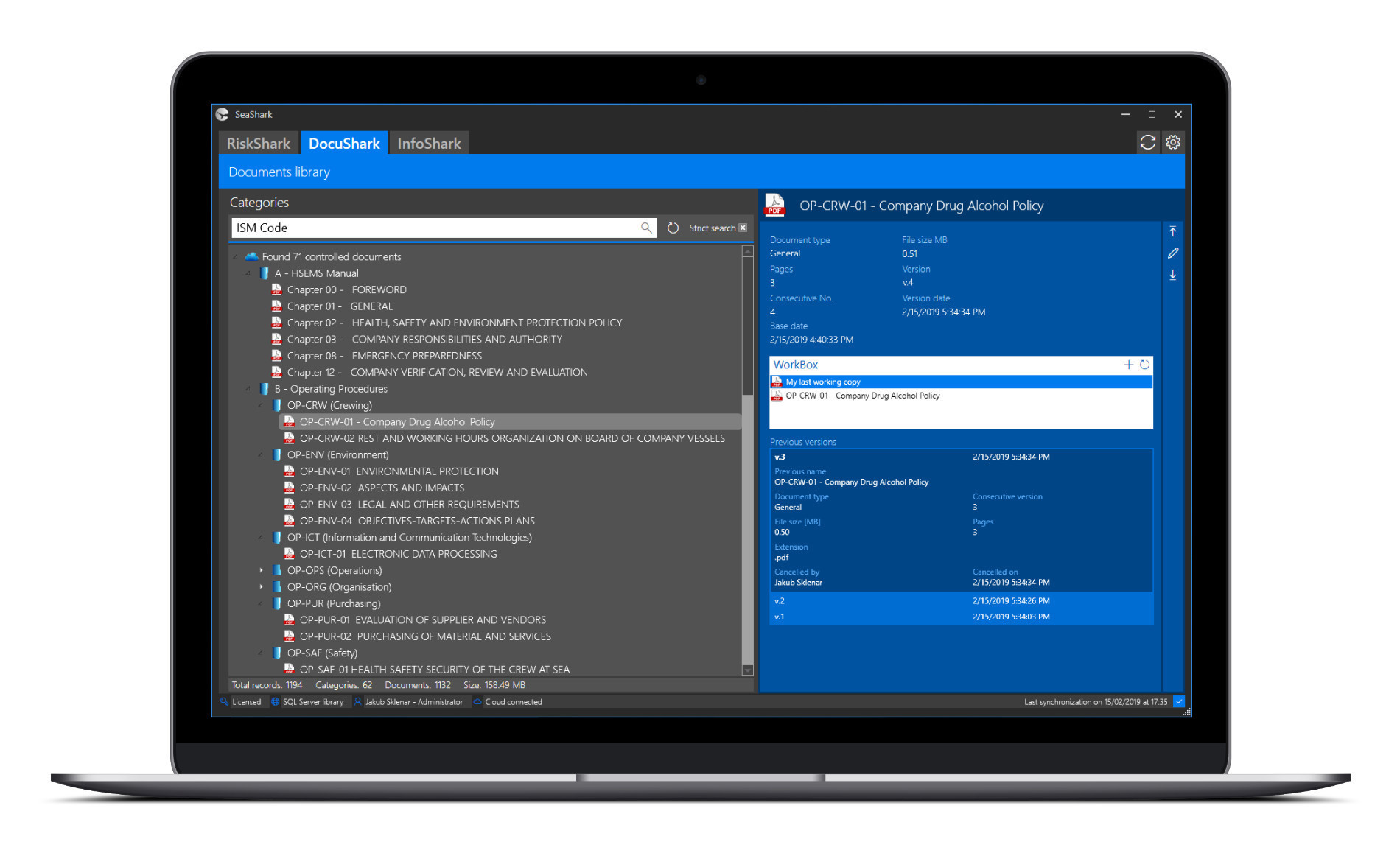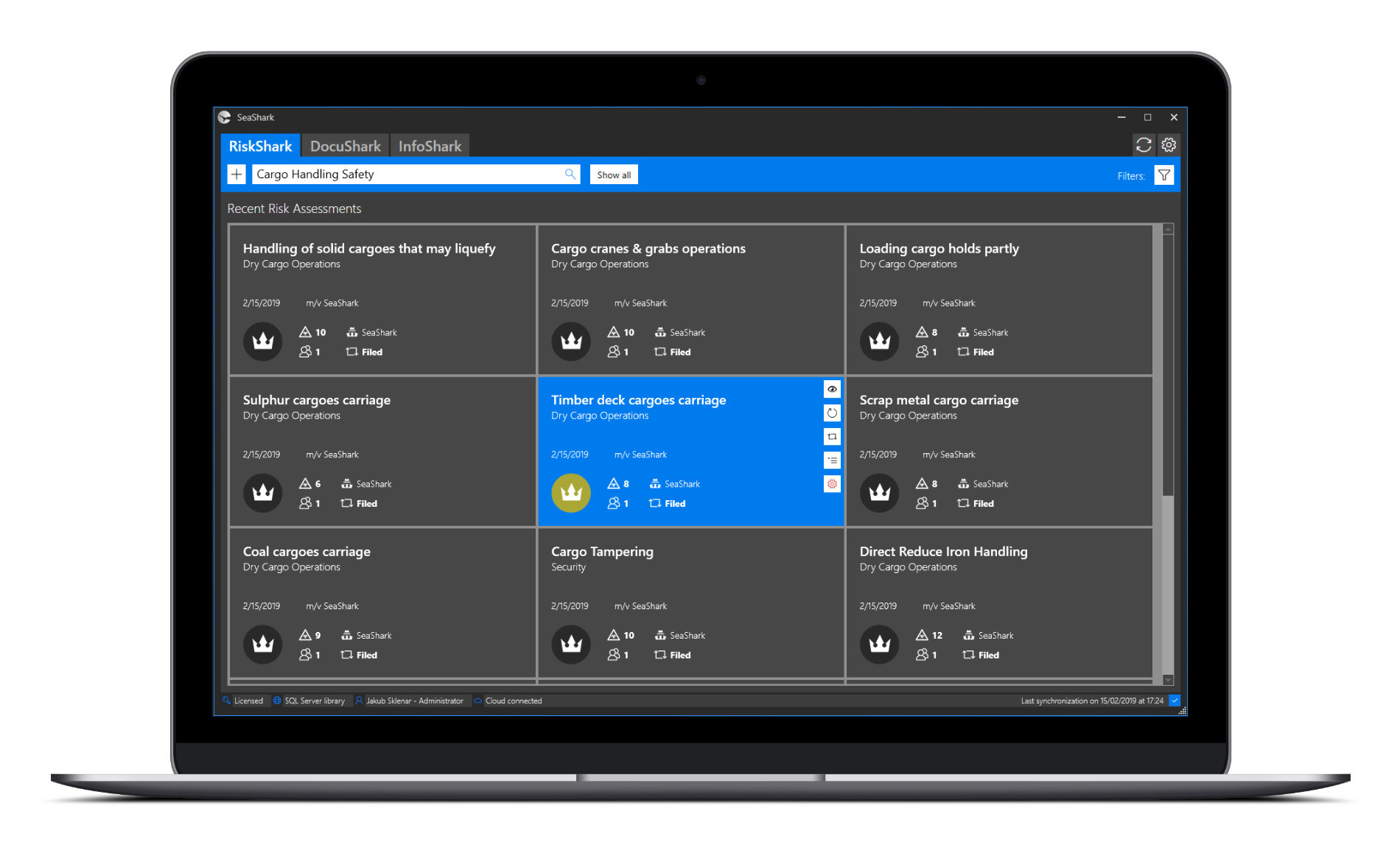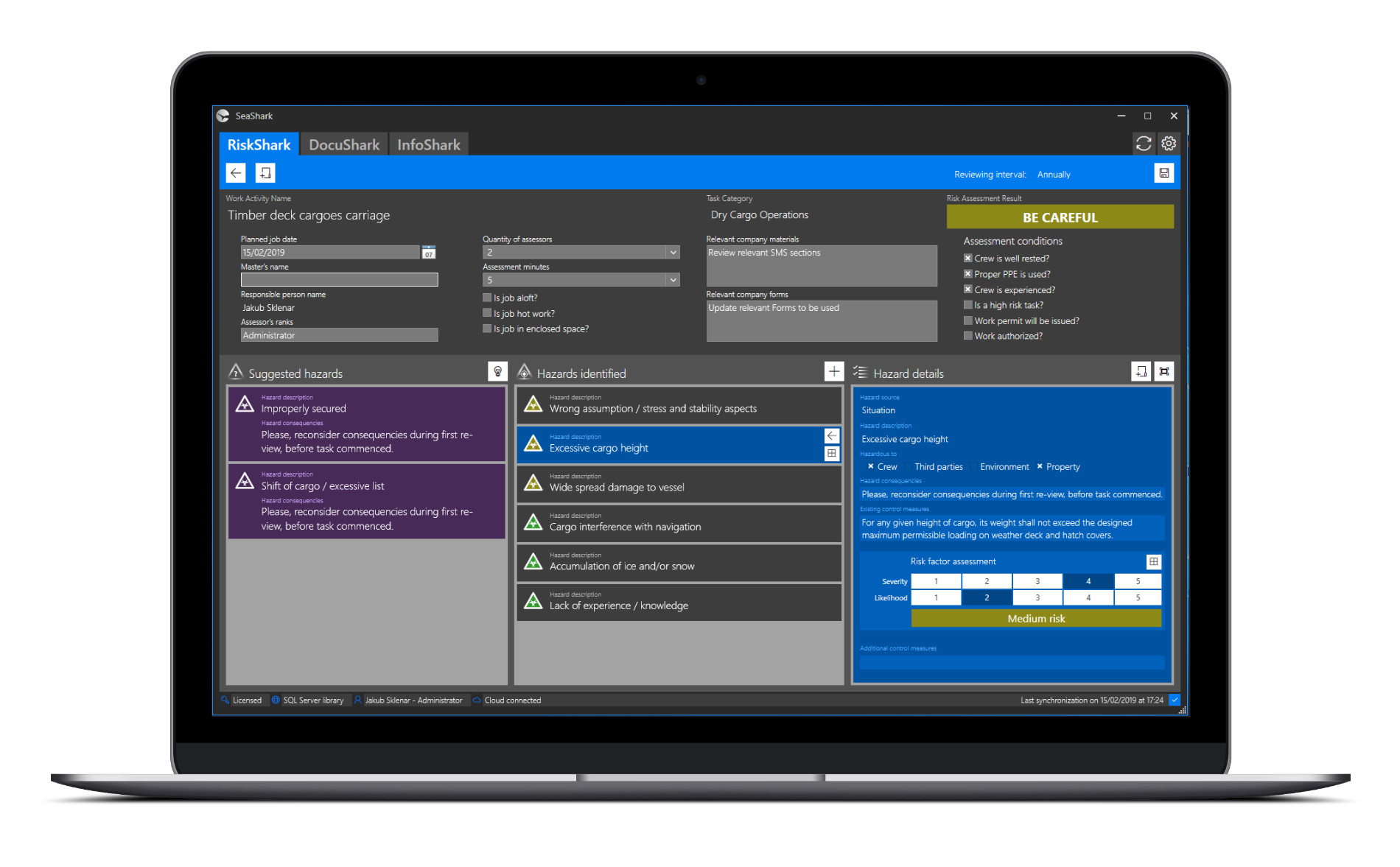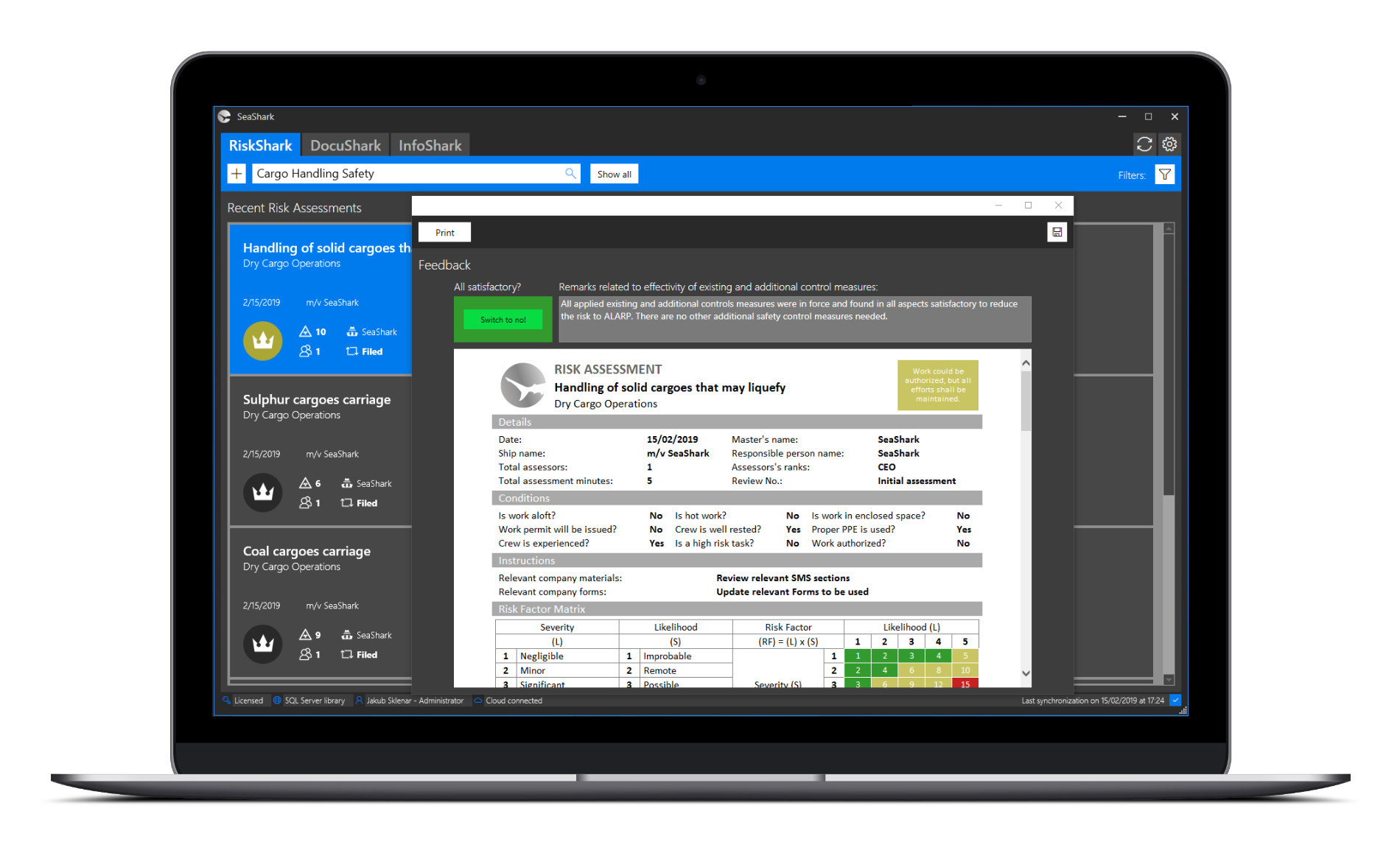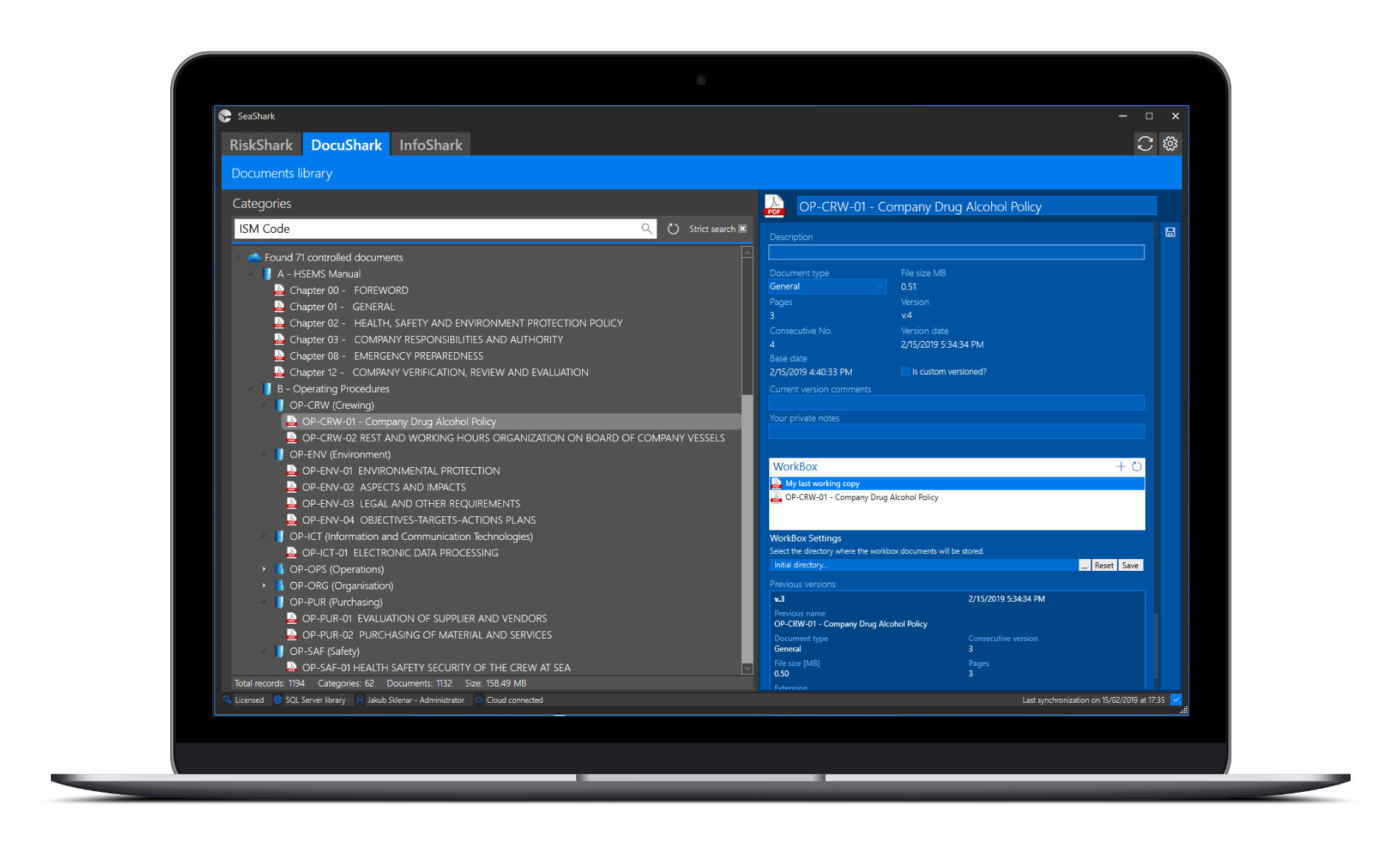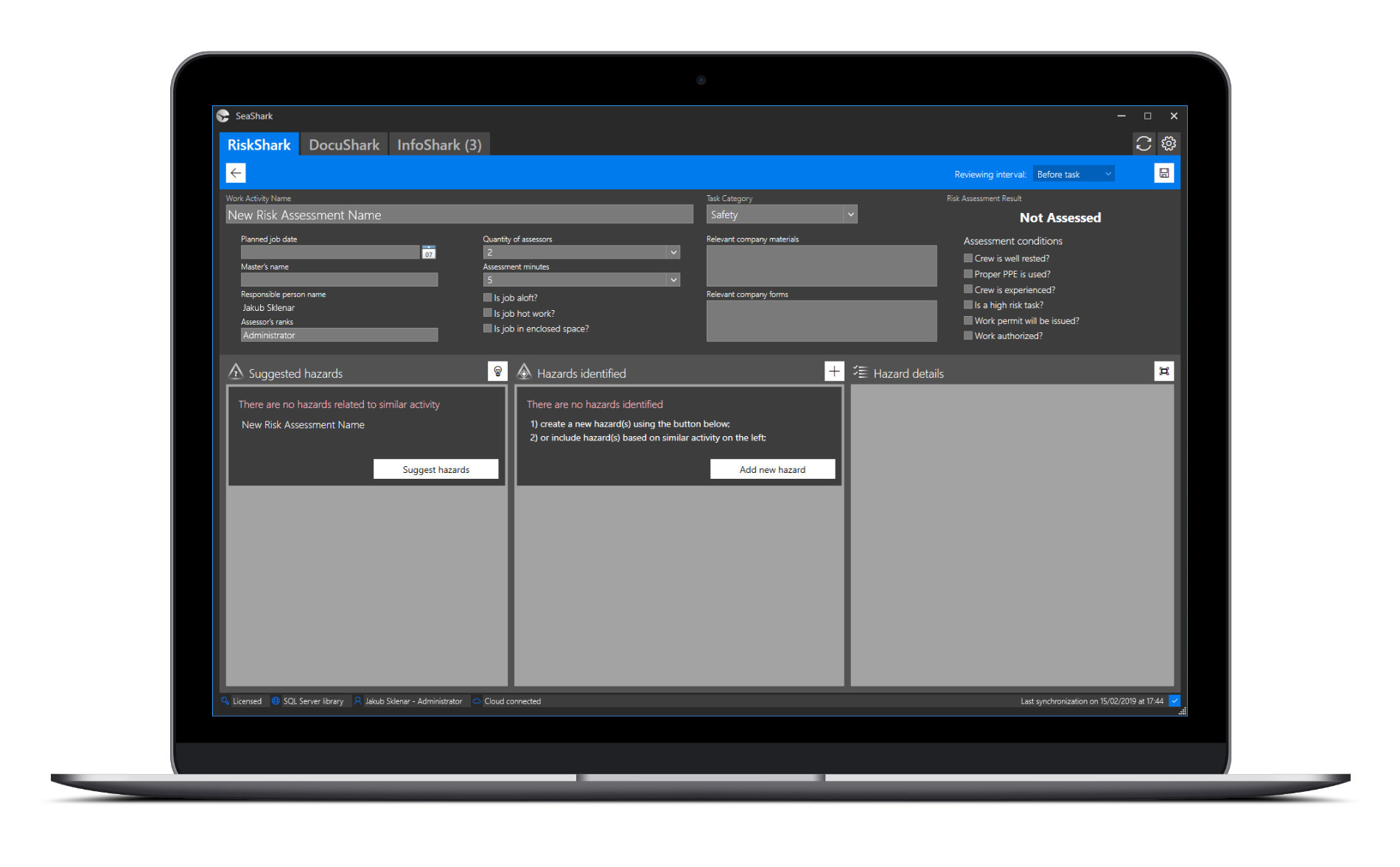 If you like to install SeaShark application, please follow the steps below. First download the setup.exe file using DOWNLOAD link available on the top of the page.
Run downloaded setup.exe file
Once the setup.exe file is donwloaded, please execute this file by double-clicking on it.
Windows SmartScreenⒸ will appear.
Click on 'More info'
As a next step please click on 'More info' link on Windows SmartScreenⒸ dialog box.
Initialize installation
To start up installation click on 'Run anyway' button on Windows SmartScreenⒸ dialog box.
The WindowsⒸ OS will ask you if you like to proceed with installation. Just press button 'Install'.
Installation process
Once the installation is confirmed the dialog box with installation progress will appear.
Run application SeaShark.exe file
When the installation will be successfully completed, the Windows SmartScreenⒸ will ask you once again if you like to run the SeaShark.exe application executable file.
Please, proceed as in previous case when Windows SmartScreenⒸ asked you about setup.exe file executing. Click on 'More info' link and allow application to run by clicking 'Run anyway' button.
Done
You successfully installed and run SeaShark application. Since this moment the application will starting without any pop-up windows or other prompts.
Licences
For the available licenses and remote storage options contact us via contact e-mail.